Lakewood Ranch maintains high sales ranking, No. 2 in sales according to mid-year ranking by RCLCO
The master-planned community of Lakewood Ranch has retained its No. 2 ranking as the nation's top-selling community this year.
According to the mid-year ranking published today by the real estate consulting company RCLCO. Lakewood Ranch purchased 824 fresh homes, leaving only The Villages, which sold 1,000 homes in the first half of the year. Lakewood Ranch had 826 fresh home sales at the same moment last year.
RCLCO reports that domestic sales in the nation's 50 top-selling master-planned communities exceeded expectations in the first half of 2019, at a pace that indicates the potential for a 10% increase at year-end compared to 2018.
On average, this year's list of groups saw an increase of about 3% in revenues over the same period last year. Texas, Florida and California account for 66% of total revenues in the 50 top-selling areas, according to the study.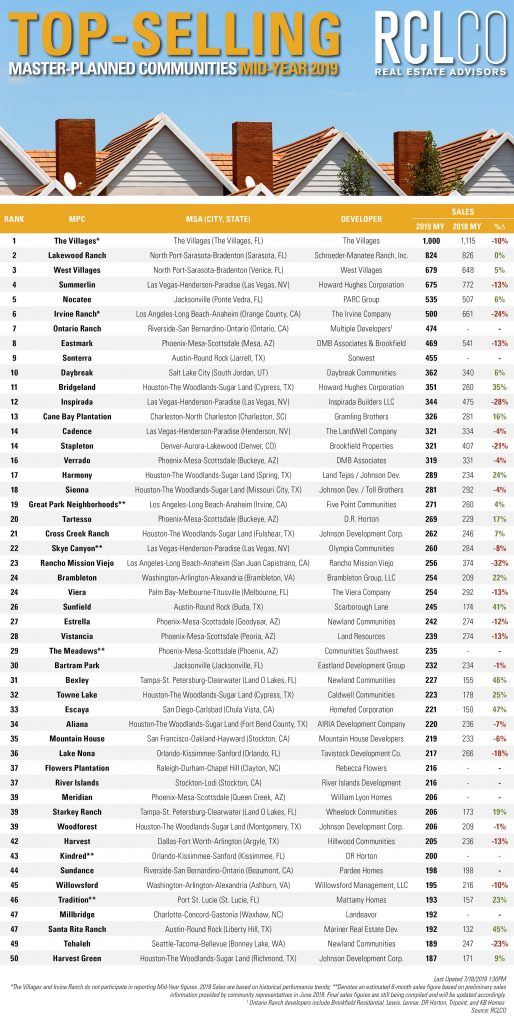 Master-planned communities that consistently rank among the top-selling communities in the country credit successful market segmentation—the targeting of various age, income, and household segments with appropriately priced and designed residential product types and lifestyle amenities. Most communities within the top 50 have created successful strategies that seek to fill multiple market niches.
What's more, these communities seek to be proactive in identifying the needs and wants of consumers in the market and seek to fill those needs ahead of the rest of the industry. As identified in RCLCO's recent Advisory, "Disruptive Demographics: Housing Production & Demographic Reality Are Moving in Different Directions," there is currently a growing mismatch in much of the for-sale market among the demographics of new households, the stated housing preferences of households active in the for-sale housing market, and the new-home products and price points being offered to the market.
Mid-year 2019 top-selling report
New household growth is both younger and increasingly diverse than in the past, and this has a major impact on purchasing power during a time in which prices are peaking and inventories of more attainably priced housing are declining. There is also a market for more medium-density attached and smaller detached new homes than are currently being offered. These and other creative solutions will become increasingly important. As the U.S. population further diversifies.
Many of the communities on the mid-year 2019 top-selling report have already identified these trends. And offer an increasingly diverse array of product types at varying price points intended to increase absorption and provide housing. Which meets the needs of a changing population.
Texas
Representing 20% of sales in the top-50 communities, Texas has seen a slight decrease over last year's capture of 22% of sales. The majority of these are concentrated within the Houston MSA, which is home to eight MPCs on this year's top-selling list and represents about 65% of total sales from ranked Texas communities. A new arrival to the report, the top-selling community in Texas this year is Austin's Sonterra. With 455 new home sales in the first half of 2019 claiming the ninth spot on the list. Following shortly behind are Houston's Bridgeland, Harmony, Sienna, and Cross Creek Ranch.
Florida
The Villages is once again estimated to be the top-selling community in the country. With approximately 1,000 net new home sales in the first half of 2019. Following shortly behind are Sarasota's Lakewood Ranch and West Villages, with 824 and 679 sales in the first half of 2019, respectively. Together, these three communities represent almost 42% of the sales from the top-10 communities on the list. And almost 55% of the sales from the 11 Florida communities that appeared in this year's mid-year rankings. Florida once again represents a majority of the nation's 50 top-selling MPCs. And this trend is expected to continue as communities like Lakewood Ranch, West Villages, Nocatee, and Viera continue to experience success.
West
With eight communities making this year's list, California represents 15% of the total sales of the top-50 MPCs. The same as last year's capture of the top-50 list. Following behind California, Arizona and Nevada represent 13% and 10% of sales of this mid-year's top-50. This performance is help by Las Vegas, Nevada's Summerlin and Mesa, Arizona's Eastmark. With significant performances placing them within this year's top-10 selling MPCs. Not far behind these communities, Salt Lake City, Utah's Daybreak and Denver. And Colorado's Stapleton earned the 10th and 14th spots respectively. On this mid-year list, helping Utah and Colorado each capture approximately 2% of total sales among this mid-year's top-50 communities.
Southeast
A mainstay on the top-selling list, Charleston, South Carolina's Cane Bay Plantation leads the east with 326 sales in the first half of 2019 earning it the number 13 spot in this mid-year 2019 ranking. Virginia's Brambleton community follows closely behind with a 22% increase in sales. Vaulting it from the 36th spot on mid-year 2018's list to number 25 in this mid-year ranking. Fellow Virginia MPC Willowsford has also seen continued success this year, earning the number 45 spot. Strong performances by other eastern communities included Flowers Plantation and Millbridge in North Carolina. Which brought that state's capture of sales among the top-50 MPCs to 3%.